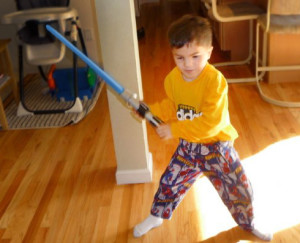 Jacob entered our lives 4 weeks early on March 12, 2002 fighting for his life and left it on Monday December 28th still courageously fighting.  Throughout his life Jacob dealt with numerous procedures, open heart surgeries, including the complex Ross Procedure and infections that tried to take him from us.  Jacob was a happy and positive person from the day he was born and would not allow these battles to impact his spirit, in fact it made his spirit and happiness stronger.
Some of Jacob's favorite things in life were Sponge Bob, Thomas the Train, Peanut Butter on a muffin and eating all the peanut butter but not eating the muffin.  Anything about the new cartoon Star Wars, jumping on the trampoline with his brothers, anything about Police and catching the bad guys, riding on boats or motor cycles, and baking cookies or making milk shakes! He loved it when the doctors told us he could have all the milkshakes h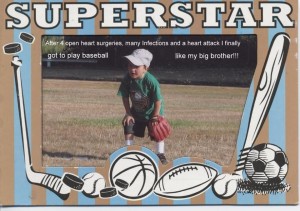 e wanted to gain weight!
His proudest day was being physically able to play T-ball and be a baseball player like his brother. Another was being healthy to be in his 1st play at his kindergarten class.  He was the fire fly and the search light, shining a flash light at other classmates.  We had never seen him more glowing and excited than during these two huge accomplishments in his life.
In 2007, Jacob had his last heart surgery to replace a valve that had been replaced just 6 months before.  He did great with surgery, but soon was very sick with pneumonia and nearly didn't make it and spent nearly 4 weeks in the PICU.  It set him back a year in development, but he willed himself to get back to school and try to be like his big brother; whom it was clear he really loved and respected.  They are truly best friends, not just brothers.
On the tragic last moments of Jacob's life here on earth, Dr. Wood's Jacob's Heart Surgeon raced down to emergency to help save Jacob. We watched helplessly as he tried relentlessly for over an hour to try and save Jacob. It's not often you'll see tears and get hugs from a stoic thoracic heart surgeon, but Jacob could do that!
Our company services the Lakewood Police Fleet, so last month when the recent tragic events of the fallen Officers occurred Jacob was very touched by the loss.  He wanted to help Collin and I clean the Officers cars, but he hadn't been feeling well.  So, instead he watched the entire memorial service. He talked about liking the Bag Pipes and it was the first time we talked about what death meant.  Later that night he asked me if the Officers are Hero's?  I said, yes Jacob and you're our Hero for being so strong!
Another local police officer that had been shot earlier in the week, Jacob had been praying for.  While in the emergency room, Jacob saw the news that Officer Mundell had passed away from the injuries.  Jacob asked if he was in Heaven now, I said yes and he asked is that a place for all Hero's? I answered yes and he fell silent as I held his hand.  Moments later Jacob had a cardiac arrest.  We truly believe he was led by his Hero Officer Mundell to Heaven's gates! ♥
---
A story was published on the front page of The News Tribune on January 10, 2010, that beautifully captured Jacob's life story and heroic journey. Please click the link below to read:

.
(Thank you to Dana Eggleston and the others at The News Tribune who helped find and retrieve this story from the archive and reactivated the online link so we could share this here.)
KOMO News also did a feature story on Jacob and his special connection with the Lakewood Police Department. Please click the link to read the story or click on the video to watch:
.